2023 Architects Medallion winner
Samantha Rich awarded the 2023 Architect's Medallion: "Go slowly, thoughtfully, carefully, and respectfully".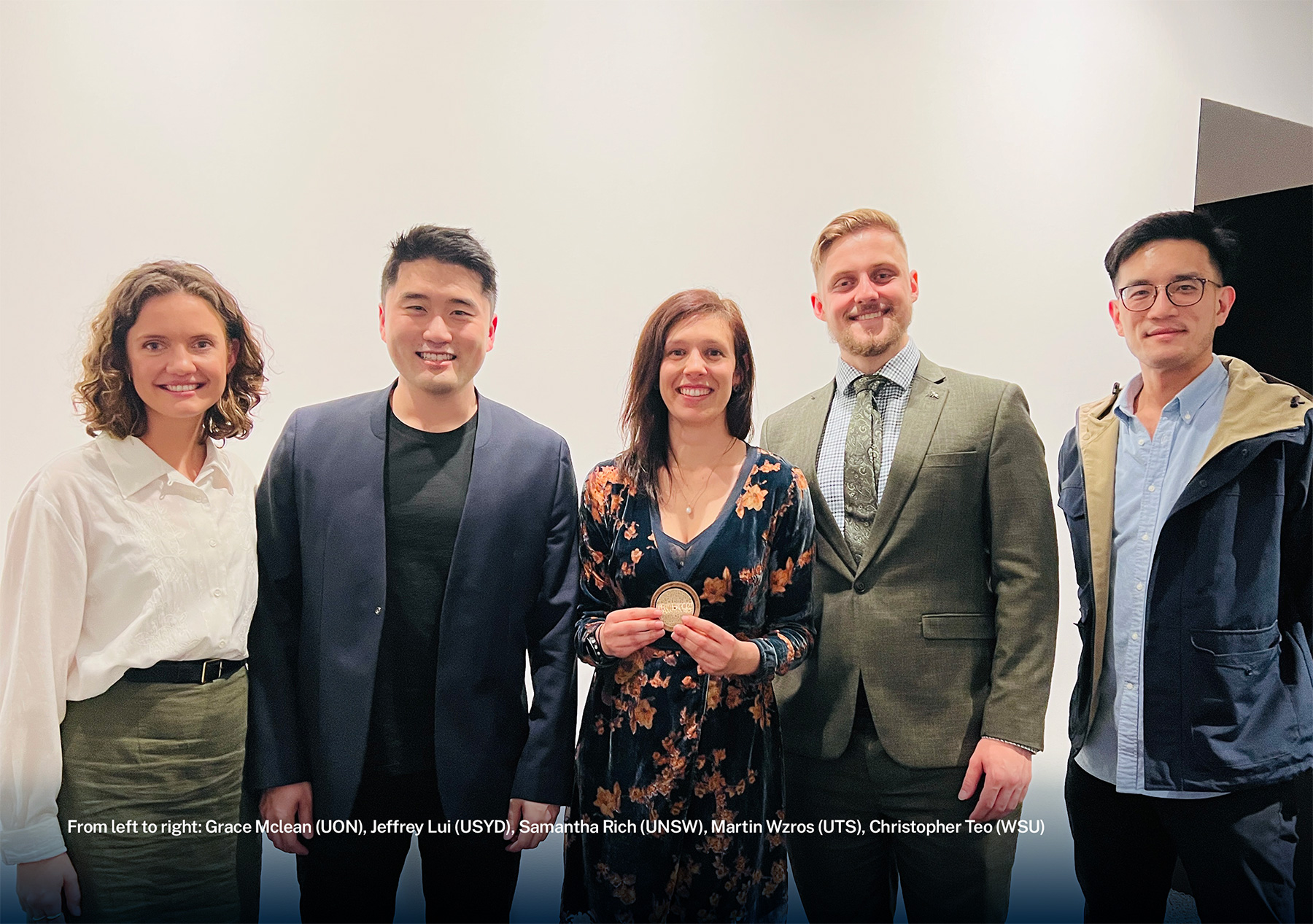 The Architect's Medallion is awarded annually by the NSW Architects Registration Board to a NSW graduate of an accredited Master of Architecture course who has achieved distinction both in a particular subject area at the final level and generally throughout the two years of the course. The Medallion is presented, along with a $5,000 prize.
The following candidates were nominated by their universities from the 2022 cohort of M.Arch graduates:
Grace Mclean of The University of Newcastle
Samantha Rich of University of New South Wales
Jeffrey Liu of The University of Sydney
Martin Wroz of University of Technology Sydney
Christopher Teo of Western Sydney University
The NSW ARB is delighted to announce that the 2023 Architect's Medallion has been awarded to Samantha Rich of University of New South Wales.
The Jury Citation reads:
"Samantha Rich is a proud Wiradjuri woman, dedicated to embedding a First Nations worldview in the built environment. She is driven by a genuine belief in the ability to make positive change and committed to listening and engaging with community to effectively do so. She believes in the need to "go slowly, thoughtfully, carefully and respectfully".
For her graduation design studio Samantha initiated a community-partnered approach to address systemic housing needs with and for Aboriginal people in regional and remote NSW. Working closely with Yuwaya Ngarra-li (a partnership between the Dharriwaa Elders Group and UNSW) she responded to the urgent priority of creating Elders' housing that can enable Walgett Elders to age well with family and community on Country. The project involved co-developing culturally led housing design principles and fostering reciprocal relationships embedded in Indigenous culture between people, communities, and Country. Samantha's proposal demonstrates an interconnected approach to housing that addresses human and more-than-human needs. Modular and adaptable home units that sensitively consider aging on Country, environmental comfort and socio-cultural connection are situated within existing waterways, re-wilding initiatives, and support programs.
The jury was impressed by Samantha's mature approach to listening and developing briefs, her great empathy and respect for the people and communities she is working with and for, and her ability to facilitate authentic outcomes. There is a sophistication in her realisation that a series of 'small' moves addressing practical issues such as adaptability, change, expansion, and robustness can create architecture with significant impact. It is notable that the integrity, rigour, and respect demonstrated by Samantha in her graduation project has led the Dharriwaa Elders Group to seek funding for its construction.
Beyond her university studies, Samantha is a passionate advocate and agent for change in furthering First Nations' perspectives, culture, and history in the built environment. At UNSW her work with Yuwaya Ngarra-li has led to funding for ongoing housing research and she has been appointed as a researcher and adjunct lecturer. Samantha has a clear vision for the future of architectural pedagogy led by Indigenous voices and driven by a community-centred approach grounded in caring for Country. She is already instilling this pedagogical vision in her role as architectural and cultural mentor in First Nations Professional Placement coursework.
Within the wider profession, Samantha has been the Reconciliation Action Plan (RAP) External Advisor for Frasers Property since 2018 and was on the RAP Taskforce for the NSW Chapter of the Australian Institute of Architects from 2018 to 2020. She has given national talks and lectures and has been involved in panel discussions and workshops relating to Country-centred relationships of reciprocity, as well as contributing to the professional press on these topics.
Samantha is a true change-maker. Now working with First Nations communities in a range of contexts and in association with numerous design consultancies and architectural firms, her practice is focussed on community-led design. She is committed to the knowledge transfer that occurs through sharing and learning from others irrespective of age or experience and strives to reconcile different opinions, perspectives, and skillsets. Mindful of the significant cultural responsibility that she carries, Samantha understands that urgency does not justify reactive decision-making. Importantly, Samantha is sophisticated in her re-imagining of what design could be when it interweaves cultural knowledge and a deeply collaborative mindset. She is a fearless advocate for a built environment that has Indigenous voice at the fore."
Samantha was awarded the Medallion at a special gathering at the NSW ARB on 19 July 2023, also attended by this year's distinguished nominees from the other NSW universities. Samantha joins a distinguished line of past winners including Tualagi Nokise (2022), Marni Reti (2021), Jincheng (Kimi) Jiang (2020), Sarah Yap (2019), and Eric Ye (2018). Notably, Marni Reti and Sarah Yap have recently become registered architects on the NSW Register of Architects.
In awarding the Architects Medallion, the NSW ARB affirms its dedication to nurturing emerging talent and promoting architectural innovation, inclusivity and diversity. The Medallion recognises those who demonstrate outstanding academic achievement and bring distinct perspectives and design ideologies to the benefit of their communities and the built environment.
The NSW ARB extends its warmest congratulations to Samantha Rich and wishes her well for a promising future in architecture.
#Architecture