Boom sends costs through the roof
At an event explaining changes to the Architects Regulation held at the NSW Chapter last week, an audience question probed an architect's duty to provide cost advice to their clients. It echoed a recent complaint heard by the Board. Most in the room agreed that architects are generalists and not experts, and so could never be expected to have current market pricing at call.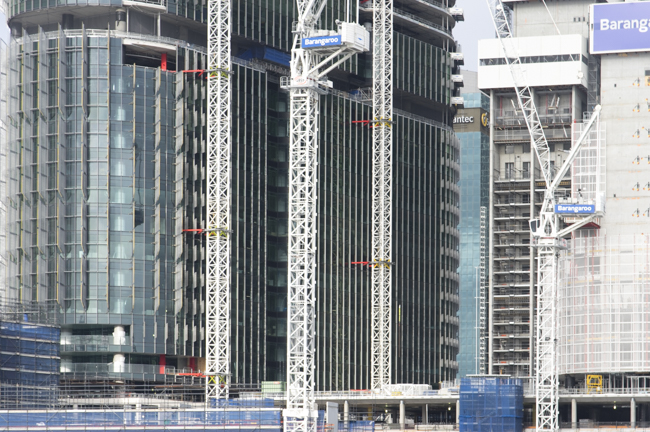 So what should a homeowner expect of an architect? Is it enough for an architect to outsource responsibility for cost advice to a quantity surveyor or builder? If this is the only means of providing a client with such critical advice, why don't we see more practices offering combined services of architecture and quantity surveying? Does it forecast a rise in the architect-builder business model, where the architect has access to real-time cost advice from the trades that price projects? And why the focus on costs anyway?
Evidence shows construction costs continue to climb in Sydney. Quantity Surveyors tell us construction costs are up 20% in the last 12 months alone. The NSW Architects Registration Board has recorded a rise in calls and complaints against architects related to project cost over-runs. The calls run something like:
We've paid $20,000 in fees and can't use what we have. We expected the architect to have some idea of cost. We were OK when the estimate moved from $500,000 to $800,000. But $1.4m is just beyond us.
Choice Australia carried a similar message in August. But Choice didn't really explore the external drivers and influences on costs. It's true that most architects aren't the ones pricing the job. Margins, overheads, fees and permits, labour and materials are all decisions made by builders and their trades. But faced with big outlays and little chance of breaking ground, a homeowner may feel they have little choice but to lodge a complaint; if only to register outrage and to open negotiations with the architect. The Board has encouraged mediation on some of the complaints lodged by homeowners, with some success.
But is it really all down to uncaring or incompetent architects? Lurking beneath the froth of an excited property sector trumpeting year-on-year growth is a serious downside for many homeowners. Last year, the Board published a circular on rising construction costs. We tracked the fall in training for the trades that are critical to keeping up with the demand, and we stated the obvious; every square metre costs - so use clever design to make the most of each precious square metre.
A year on, the news is no better. Rider Levett Bucknall's Crane Index tells us there are now more than 330 cranes in the sky in Sydney alone (around half of all cranes in Australia). It's an imperfect measure, but does point to a building boom that is not cooling yet. Only the very largest home projects need a crane, so RLB's Index is really a measure of commercial buildings and large apartment buildings. It doesn't capture the activity in bathroom renos, back yard extensions or the extra bedroom needed by the family who decide to stay and renovate rather than risk the buy-and-move that might leave them locked out.
There's another sting for home renovators too. The rise in larger apartment buildings is giving tradies more reliable work - keeping them occupied on one site for months, with regular billing to a large builder or developer. We're hearing a carpenter can earn $150,000/year, and even unskilled labourers can command $60 per hour. Compare this to invoicing 30 separate homeowners from the front seat of the ute or Hi-Ace. It may explain why margins on single homes and renovations appear to be escalating.
So what should an architect know? We went to the National Standard of Competency for Architects, industry Practice Notes and the NSW Architects Code of Professional Conduct. We found them all remarkably consistent.
The National Standard of Competency for Architects says an architect should be skilled in:
Design: pre design
2.3 Evaluation of factors influencing and impacting on project cost.
2.4 Analysis of project brief in relation to clients objective budget and timeframe.
2.5 Attainment of approval from client of project budget and timeframe.
Design: schematic Design
4.8 Analysis of schematic design in regard to cost planning and timeframe to comply with client and project requirements.
Documentation: detailed design
5.7 Resolution of project design to address budget and time constraints.
Documentation: documentation
6.7 Establishment of quality assurance systems to ensure consistency and completeness of project documentation in accordance with the requirement for the project brief, project timeframe and project budget
The industry practice notes, published by the Australian Institute of Architects say:
Architects are responsible for estimating in accordance with the standards of reasonably competent architects
It is part of the architect's overall responsibility to design within a stated or developed construction-cost limit that has been given or agreed to by the client. Where maintaining the construction-cost budget is not feasible the architect has a responsibility to notify the client. It is the responsibility of the architect to remain within budget to the degree of accuracy of the figure indicated by the client.
The architect is required to design and deliver a project within the constraints of a budget agreed with the client. The ability to meet this responsibility requires that the architect use their own estimating skills or an external estimating resource.
The NSW Architects Code of Professional Conduct says:
Section 6
(3) An architect must take all reasonable steps to ensure that a client is informed of:
(a) the decisions required of the client in respect of the architectural services being provided by the architect, and
(b) the implications of those decisions for the performance of the architectural services (particularly those implications related to timeliness, cost and changes to the architectural services).
(4) An architect must advise a client on the likelihood of achieving the client's stated objectives having regard to the client's stated budget and time requirements for the architectural services concerned.
All this suggests architects are expected to keep a grip on movements in project and construction costs throughout the stages of a project. But what seems most relevant to both architects and homeowners looking to build or renovate, is that our current 'boom' cycle means a completely new scale of costs in Sydney.
The take away message is that architects – and homeowners - might need to re-calibrate their assumptions on costs.
#Public