Getting Registered
The use of the title 'architect' in NSW is protected by the Architects Act 2003. An individual may only use the title 'architect' to describe themselves if they are on the NSW Register of Architects.
It is an offence to represent an individual or business entity as an architect when they are not registered. Significant fines apply for breaches of sections 9, 10, 11 and 12 of the Act.
There is more than one pathway you can follow to become a registered architect. See below for explanations of each pathway and the relevant form you must complete to apply for initial registration in NSW.
For updates on the Architectural Practice Examination (APE), including opening and closing dates for applications, monitor the Board's APE webpage here.
To learn more about the pathways to registration, join one of our free webinars. Register here.
Pathways to Registration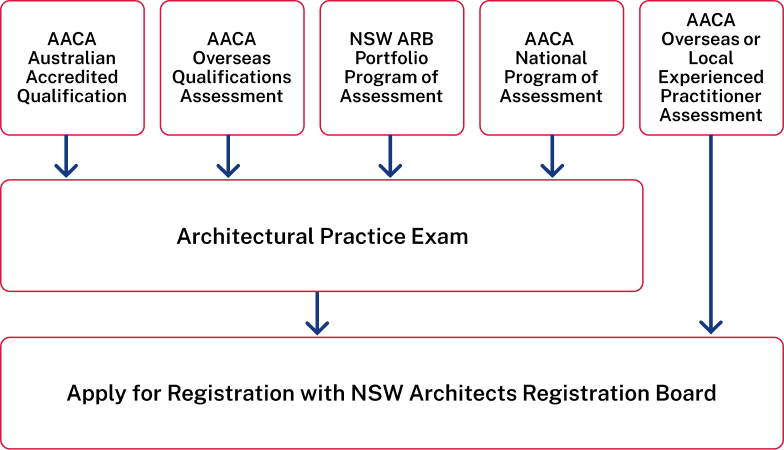 Australian accredited qualification in architecture
Overseas qualifications in architecture
UK qualification in architecture (UK MRA)
National Program of Assessment (NPrA) - for those without an approved qualification in architecture
NSW Portfolio Program of Assessment (NSW PPA) - for those without an approved qualification in architecture
Experienced Practitioner Assessment (EPA)
Temporary registration of overseas architects
New Zealand architect registration under Trans-Tasman Mutual Recognition (TTMRA)
United States architect registration under Mutual Recognition (US/AUS/NZ MRA)
UK architect registration under Mutual Recognition (UK MRA)
Nominating a responsible architect for a corporation or firm
Registration as a Non-practising architect