The Internet of Things in Public Space - Nicola Balch
Byera Hadley Travelling Scholar Nicola Balch has been researching the role and impact of the Internet of Things (IoT) in public spaces around the world, and reports on her findings just as Sydney is radically rethinking its public spaces and infrastructure.
The City of Sydney just launched a significant EOI calling for the design and supply of citywide free wifi, out of home media services and street furniture. The project will include the renewal of bus shelters, kiosks, public toilets and communications panels, and it will be delivered for free in exchange for advertising. On the surface this seems like a simple digitisation and re-design of existing infrastructure, a mimic of their current engagement with JC Decaux topped with an added benefit of city-wide free wifi. But take a step back, and it's far more than this. The city is begining to actively engage with the potential for a comprehensive, fully-deployed and operable Internet of Things (IoT) Network. And that unleashes a host of questions and possibilities concerning data access, privacy, digital citizen engagement and new ways of understanding, managing and planning cities.
Even if the city opts to keep the outcome of this process a business-as-usual Wi-Fi and public infrastructure deal, the issues faced are hardly straightforward. Wi-Fi, like it or not, is a service. But it's also a form of sensor tech - picking up on the presence of any device with an active Wi-Fi signal, regardless of whether or not it's using the network. Log on and the data collection increases ten-fold. The result: an anonymous (or not), aggregated working map of city users, calculating footfall, mapping movement, even detecting repeat visitation. Imagine the findings this could have when cross-referenced with other citywide data sets, such as economic performance, maintenance, social calendars & events, new infrastructure locations?
It is, in short, a goldmine for city makers. Worried about privacy violation? Turn your wifi off and you drop off the map (but chances are the third party app in your phone has you covered, whether that's through location allowance services or the geo-mapping of photographs). But unlike private companies who may use data to drive sales and build profiles of potential customers, Citymakers can use this to make informed decisions to improve the liveability of our cities by developing a people-led evidence base for more progressive and visionary policies. What's more, the simple act of designing a new suite of street furniture could house the possibility for other diverse and even cheap modes of IoT, like comparing block by block micro-climatic information with health statistics. Remember the Melbourne asthma storm in 2016? Catastrophes like that could be detected, and may be avoided (or at least, mitigated). Testing responses and strategies prior to implementation could become a new norm, taking the methodologies of tactical urbanism to new heights. But only if they are inclusive, holistic and ethical.
To do this we need to think ahead of and beyond the ambitions of the large tech companies who maintain market dominance and deliver these types of tenders and to introduce new ways of engaging diverse players with democratic interests. We need to learn from case studies like New York's LinkNYC program described by the New York Times as "a case study in unintended consequences, commendable goals gone somewhat awry." The origins of Link NYC are not dissimilar to those of the City's current EOI. In 2014 Mayor de Blasio announced it a social initiative in partnership with CityBridge (A consortium led by Intersection, a company owned by Alphabet aka Google) that would replace 7,500 payphones with high-speed Wi-Fi. Given the gigabit internet speeds pitched, the project would be the most extensive and ambitious in the world and, like the CoS tender, it would be entirely funded by advertising.
It's now been two years since these kiosks have hit the streets, and the journey hasn't been smooth - kicking up a slew of social and privacy issues along the way. On its inception, Link NYC primarily aimed to aid underprivileged communities in a move by the city to provide high speed Internet access and access to a range of social services including, 911 and 311 (government benefits) and other portals for locating "food pantries, emergency housing, childcare, healthcare, transportation assistance, and financial aid programs located within that zip code." (Bliss, 2017) From their first installation in early 2016 until September of the same year the kiosk tablets offered free internet browsing.
The service was pulled amid a barrage of complaints and reports of overuse (for extended periods of time) and individuals accessing inappropriate viewing, including pornography and congregating in large number around the kiosks to play music or watch movies. Residents near the totems began to grow unsettled. A disdain for prolonged loitering and pornography aired in public has likely thrown overboard any plans on the potential for the kiosks to facilitate positive prolonged social use. Walk past these totem today and you'll find users plugged-in and perched on the cold concrete of the NYC sidewalk.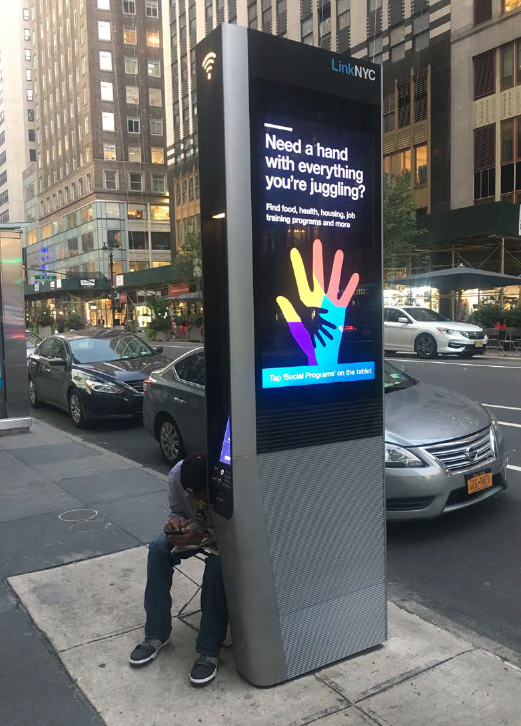 But another issue is that the kiosks have been deployed in largely hostile locations, right by the roadside or sandwiched between wastebins. On top of this, for the first 9 months of the projects' deployment, the Electronic Frontier Foundation (EFF) described the City Bridges privacy policy as "particularly invasive". The kiosks enabled private storage of personal browser history - a policy that was revised only in March 2017 after data-rights complaints. Go through the current privacy policy and it's milder, but still grossly non-specific, in addition the kiosks contain "Other sensors" such as those of environmental measurements. There is no indication as to what is being measured from an IoT perspective, nor any understanding if the public or city could access such data that could be invaluable to city makers and the public.
From a spatial, design and programmatic facilitation perspective (but also from a data engagement, privacy and advocacy perspective), Link NYC missed the mark and failed to consider the city's most complex parameter: people.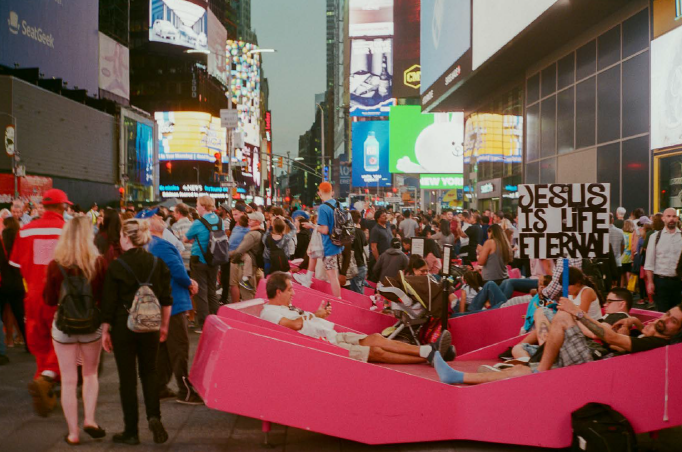 We have in front of us the opportunity for the City of Sydney to choose a different path, and to find new ways of engaging with this type of urban infrastructure in an inclusive, empowering way. But to do this we must recognise that IoT and ICT have the potential to provide insights that have direct physical and behavioural implications on our urban environment. This may sound easy enough, but as an industry we need to seriously think about how this information could change how we design spaces, buildings and cities. We must create public awareness and input into and education around privacy PII (Personally Identifiable Information) and policy.
We must upskill the community and show how we can all engage with data in a way that promotes community education and learning platforms. We must decide what to measure and where to measure it based on key holistic urban problems as well as requests from communities and research groups to support their advocacy, learning and growth. We must allow access to open data and open software for community interaction and feedback. We must make these networks human oriented and assess whether these processes will lead to real meaningful outcomes.
And it's not just urbanists recognising this as an issue. A report by McKinsey, released in June titled "Is your company ready for the rise of smart cities?".
"The need to tailor solutions to each city's context, combined with the unwieldiness of dealing with multiple stakeholders and agencies, has made it challenging for many providers to crack the smart city market and do so in a profitable way. For companies, the trick will be balancing each city's desire for custom solutions with their own need for scale."
As it stands, large scale tech companies do not have the capacity to deal with these questions and issues on their own. The EOI is an opportunity to consider for new ways for the community to engage in and be empowered by the process whilst bringing in smaller place focused practitioners and researchers into these types of projects for truly meaningful and contextually specific outcomes. The question is do we go the Link NYC route, or do we carve out a more meaningful pathway?
Nicola is an Associate at McGregor Coxall and has been researching the role and impact of IoT in public Spaces since 2016 under the Byera Hadley Traveling Scholarship program. The following article indicates some of her scholarship findings.
You can download Nicola's full report, The Internet of Things in Public Space, and listen to a new interview with Nicola on the Smart Cities Podcast here.
Download the City of Sydney's EOI - Street Furniture - OOH Media - Wi-Fi Services.pdf.
#Architecture