03 Complaints procedures and hearings
The Board operates a fair, effective and open complaints procedure. It has guidelines for individuals who wish to make a complaint against an architect, or against a person inaccurately representing, or representing another, as an architect.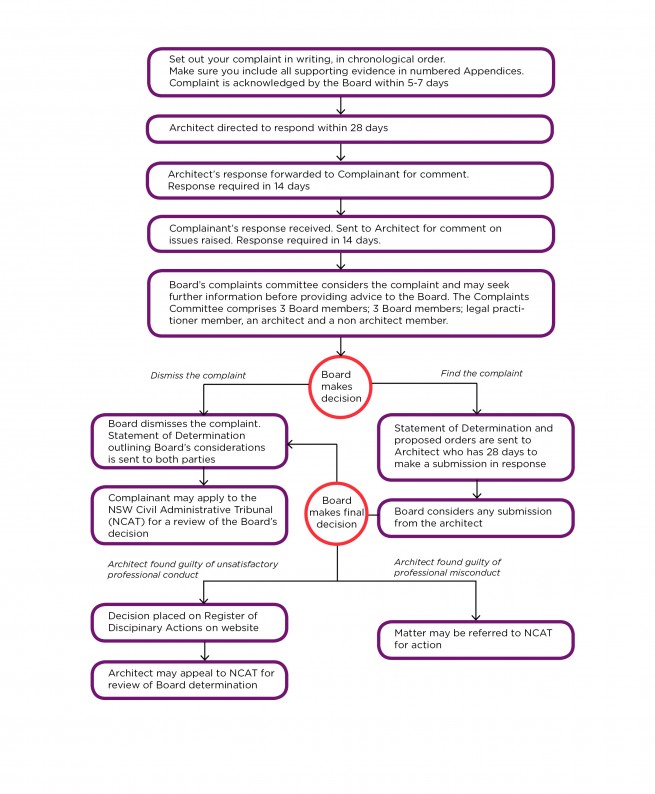 Architects are expected to display an appropriate level of professional conduct. Under s. 39 of the Act, the Board must investigate complaints made against an architect relating to unsatisfactory conduct or misconduct in the course of professional practice. It also investigates complaints about those inaccurately representing themselves or another as an architect. The Board also has the power to investigate matters on its own behalf.
The NSW Architects Code of Professional Conduct is a relevant consideration in determining what constitutes proper and ethical conduct by an architect.
Upon investigation of a matter relating to a registered architect, the Board may determine a finding of professional misconduct or unsatisfactory professional conduct. It may impose disciplinary action, or, in the case of professional misconduct, refer the architect to the NSW Civil Administrative Tribunal (NCAT) for disciplinary action. It may also penalise those found to have represented inaccurately as an architect.
Under s. 39 of the Act, the Board may dismiss any complaint without investigation if further particulars of the complaint are not given or verified as required by the Board. Section 37 provides that the Board may dismiss a complaint if it is satisfied that the complaint is frivolous or vexations, has already been dealt with as a complaint, or is trivial in nature.
Details of the procedure for making a complaint are found in Information Sheet 4 - Complaint against an architect. Contact the Registrar, NSW Architects Registration Board on 02 9241 4033.
Download: INFORMATION SHEET - COMPLAINT AGAINST AN ARCHITECT and GUIDING YOU THROUGH THE COMPLAINTS PROCESS.