One of the emerging impacts of COVID-19 is on the obligation of NSW architects to annually maintain their Continuing Professional Development.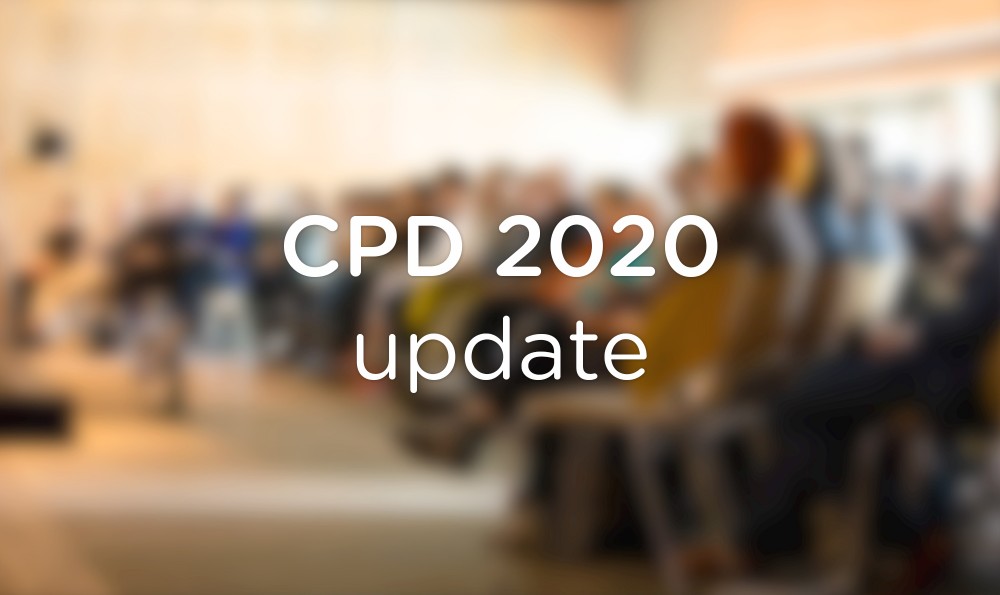 If you have any questions regarding your CPD obligations for 2020, please feel free to email us or join our weekly online Q&A (via Zoom) every Wednesday 1.00 - 1.30pm. Click here to join.
We understand that the CPD plans of many architects for the 2019-2020 reporting period have been impacted by the widespread cancellation of face-to-face CPD events. As an immediate response, the Board is working swiftly to move all its CPD offerings online and to make them free to access (no cost) in 2020. The schedule and topics for these events are available here on the Board's website.
We have received communication from architects concerned by the possibility of not being able to meet their CPD obligations. To allow architects to adjust to the changing landscape of CPD delivery, the Board has decided to implement a once-only reduction in CPD requirements for all architects, equivalent to a pro-rata exemption for the 3-months of COVID-19 disruption in this reporting period.
For the 2019-2020 reporting period, Architects should undertake a minimum of 15 hours of CPD (instead of 20 hours), of which at least 10 hours must be Formal CPD activity. Note that the CPD requirement does not apply to architects in the Non-practising category.
Download the CPD Information Sheet here.
Also be aware that the Board's existing CPD Policy allows architects to seek a pro-rata exemption from the annual CPD requirements where extenuating circumstances apply, such as personal health or carer obligations. Requesting an exemption is done in the month prior to the anniversary of your registration date, by uploading a letter to the Board outlining your circumstances together with supporting documentation during renewal of your registration.
In the absence of face-to-face CPD events, architects are encouraged to explore online-learning opportunities to meet their CPD obligations.
While the Board does not accredit CPD Providers, we are aware of many who operate online-learning courses for architects, such as:
Additionally, universities offer an exceptional range of online learning opportunities internationally that may provide suitable CPD to meet your needs.
We also encourage Architect Learning Groups and Practice Networks to explore video-conferencing platforms to enable ongoing learning – and collegial – interactions.
At this challenging time, it is important to remember that CPD is a significant component in the well-regulated professional system that architects operate within. The purpose of CPD is to ensure that architects continue throughout their working lives to maintain and improve their knowledge and skills relevant to their architectural practice to ensure their competent provision of architectural services.
Changes recently introduced to the Architects Act 2003 (the Act) mean that architects may be removed from the NSW Register for failing to comply with annual Continuing Professional Development and Professional Indemnity Insurance requirements.
From 1 July 2020, if an architect is not able to satisfy the Board that they have met their CPD obligations and where it is the Board's view that no extenuating circumstances apply, this may be grounds for the removal of the architect from the Register, pursuant to section 24(2)(g) of the Act.
To ensure that you meet your CPD obligations for the current year, you should familiarise yourself with the Board's CPD Information Sheet.
The Information Sheet provides everything you need to know about CPD, including
A list of eligible categories of Formal CPD activities;
Examples of Informal CPD activities; and
Record-keeping requirements for CPD and details of the specific evidence that you are required to retain.
Download the CPD Information Sheet here.
The Board believes that there has never been a more important time for architects to maintain their CPD currency than in the current context of endemic building failures in the multi-residential sector and the push for greater regulatory controls across the construction industry.
Now is the time for architects to demonstrate that they are leaders in the industry – well qualified and highly competent professionals with the expertise to provide the best service to consumers.
If you have any concerns or questions, please contact the board at This email address is being protected from spambots. You need JavaScript enabled to view it.
#Register