New leadership at NSW Architects Registration Board
NSW Minister for Innovation and Better Regulation, Matt Kean has announced three new appointments to the NSW Architects Registration Board that includes the Greater Sydney Commission's District Commissioner and architect, Dr Deborah Dearing as President.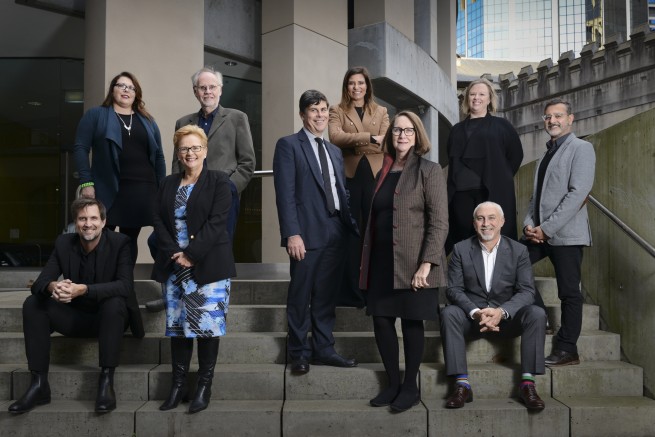 The appointments coincide with a new three-year Strategic Plan 2017-2020 – the centrepiece of which is a flagship project titled ARBOPEN which seeks to "pull the future forward through thought leadership, events and resources that look 10 years ahead".
"Quality design, housing and construction is a priority for this government. At the very centre of this are families and homeowners, and the architects and builders that make it possible," Mr Kean said.
"The Architects Registration Board promotes a better understanding of architecture in the community, and I'm pleased to welcome new members that want to play an active role in preparing our streets, suburbs and cities for change."
The three new appointments to the Board include;
Dr Deborah Dearing, District Commissioner, Greater Sydney Commission.
Sarah Marshall, Executive General Manager – Operational Support, Engineering with Lendlease - one of the world's leading providers of property and infrastructure solutions.
Peter Salhani, a writer and editor of design, architecture and environment with Pocket Press.
Dr Dearing is only the 11th President to hold the position since the Board was established in 1923, and is the first woman in the role.
"The Board's strength lies in its diversity," said Dr Dearing. "The Board brings together the voices of local government, construction and property, law and the community itself, alongside architects. I'm especially pleased that the Minister's appointments result in the most gender-balanced Board in its 94 year history", said Dr Dearing.
"The Board registers and regulates almost 5,000 architects in NSW each year. It is the accrediting authority for schools of architecture that generate almost $30m annually, and it informs the public on what they can expect when working with an architect."
"The Board plays an important role in helping homeowners who are working with an architect, to better understand what can seem a bewildering – but rewarding – process. We all know that delivering our dream can mean a fairly protracted path through councils, builders and budgets. Much of the Board's work is aimed at making this complex process more understandable to all", said Dr Dearing.
The new appointments join existing members:
Peter Poulet, NSW Government Architect
Peter Poulet is NSW Government Architect and General Manager of the Government Architect's Office. Peter provides strategic and independent advice to Government on the built environment and provides Government Agencies with design review and advice on specific projects through commissions, boards and committees.
Shaun Carter, Immediate Past President, Australian Institute of Architects (NSW)
Shaun is the founding architect of Carterwilliamson Architects. Shaun came to architecture with a Structural Engineering degree and many years working in the construction industry.
Nigel Bell, Elected architect
Nigel is principal of ECOdesign Architects + Consultants, based in Katoomba Blue Mountains. He has been a registered architect for over 30 years, having worked for small and medium practices before commencing his own. From early days working on heritage projects, he moved on to become an early champion of sustainability and now, community engagement.
Melonie Bayl-Smith, Elected architect
Melonie Bayl-Smith is a registered Architect in NSW and Victoria, and Director of Bijl Architecture. Known as an outspoken advocate for architectural education, gender equity and good design, Melonie is Adjunct Professor at UTS School of Architecture where she teaches in the M.Arch. program, lecturing in professional practice and tutoring in the design studio.
Prof Gerard Reinmuth, architect, Academic member
Gerard Reinmuth is a Founding Director of TERROIR. Gerard's current role is split between his Directorship of TERROIR's Sydney and Copenhagen offices and his Professorial role at UTS.
Matthew Curll, Lawyer and Legal member
Matthew is an experienced law practitioner with Hall & Wilcox, who specialises in advising architects and building industry professionals in the management of risk through their consultant contracts and in the management of claims that arise against them from time to time at various stages of the building process.
Milly Brigden, representing the property sector
Milly Brigden's career has been characterised by over 10 years' experience as a Property Investment Specialist, Licenced Real Estate Agent as well as 20 years as a property investor. Milly is currently the Co-Founder and Licensee-in-Charge at Property Investor Solutions where she provides investment-grade property opportunities to approved industry business partners.
Sue Weatherley, representing local government
Sue is currently Group Manager Outcomes and Development at Parramatta City Council in the centre of western Sydney, the twelfth largest local government in NSW, with the second largest CBD. As Group Manager, Sue is responsible for preparation and management of a budget of $12 million, and the management of 150 staff across 4 service units.
#Board